Zeus Group Earns Spot on Top Technology Review Website
With the application revolution and the now commonplace global market, the demand for online developers has increased exponentially. That means that there is a ton of noise and competition for those of us in the tech industry. That being said, we are really excited to be acknowledged as a reputable mobile and web development company by popular research firm, Clutch.
Their purpose is to find solid software developers to help small business owners. With thorough questionnaires and ensuring that the client reviews are valid, they compile a referral list to help those looking for guidance in updating their online presence, creating customized apps, scaling their software to meet the needs of a growing business and more. In the list of tens of thousands of software development companies out there, Zeus Group stood out from the crowd and got noticed.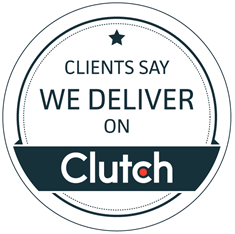 Since Clutch relies heavily on Customer Reviews to verify their list, here are some of the awesome things that our incredible clients said about us:
"There's a lot of communication with these guys. It's been excellent. That's probably the best part about them. We do daily meetings—I'm on Skype with them every morning, and that's been a phenomenal experience. I can see daily results. They're sending me binaries and files of results every couple of days, sometimes every week."
Application Development for Music Producer
"Zeus Group's members are go-getters. They're flexible and able to get the big picture, which I find to be unique in this space. Instead of only doing their assigned tasks, Zeus Group's team will come back to us with alternate suggestions for a more efficient result. This is useful for us since we do not have development experience ourselves."
Application Development for Mobile App Company
"Over the course of our tenure, we've worked with a lot of offshore development houses. Zeus Group is the only one we've kept. They've made honest mistakes due to cultural differences but were always willing to make it right. Zeus Group's quality is as high a level as we've gotten overseas."
Mobile App Development for Digital Publishing Platform
"We are grateful to have earned this recognition from our peers, but we are even more appreciative that our customers took the time to share the positive experiences that they've had with Zeus Group. We have an amazing team and wonderful clients; together we will continue to work on outstanding projects that have exceptional results."