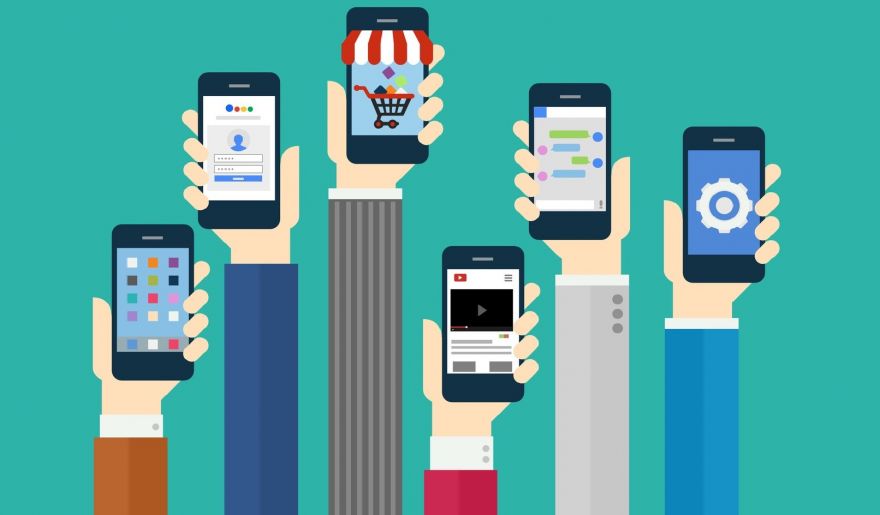 6 reasons why your business can't work without a mobile application
6 reasons why your business can't work without a mobile application
It does not matter what you sell - books, flowers or fresh pastries - sooner or later you are thinking about creating a mobile application for your business. And this will be absolutely correct decision. The notion that mobile applications are needed only for large retail chains has sunk into oblivion, and now all small and medium-sized retail stores are trying to keep up and create interesting and convenient applications for their customers. If you still doubt if you need such an application for you, then this article will help you decide and make the right choice. Interesting? Then, let's go.
MOBILE APPENDIX - IT MODERATELY
Agree that today it is difficult to find a person who does not have a mobile phone: with his help we learn the latest news, communicate with friends, take photos and videos, read books and magazines, listen to music, go around traffic jams on the way from work and , of course, we make purchases. And all these actions we produce in mobile applications: According to statistics in applications, users spend up to 90% of the time in the phone, that is, roughly speaking, they do not release it from the hands.
Therefore, the development of a mobile application will allow you to keep pace with the times and be closer to customers who are reluctant to part with their gadget and can spontaneously "look" into your online store when they have a free minute, for example, during a lunch break.
MOBILE APPENDIX - IT IS PRESENT
Today almost any business, large and small, has its own unique mobile application. Bright, interesting and convenient to use, it will not only become the hallmark of your store, but will also warm your customers' interest in buying. Look around - your competitors, for sure, have already launched mobile applications for their online stores. Do not want to be left behind? Then legs in hand and jog to professional developers to create their own application. A unique and well-designed mobile application will help you stand out among other online stores and will attract the attention of an increasing number of new customers. In addition, it is checked that often people trust shops that look more statusful and prestigious and, of course, have their own mobile application.
MOBILE APPENDIX - IT IS COMFORTABLE
Mobile app is always at hand, which means that your customers will not have to travel through the city if they want to look at a new flower in the living room or buy food for dinner. They will be able to make these purchases during a break between the main things: during lunch at work, on the way home, in the evening, comfortably sitting in front of the TV. So be sure, buyers will certainly appreciate the availability of mobile applications, which will save them time and will be a pleasant substitute for long shopping trips. Even if at the moment the buyer does not have a suitable budget, he will be able to study the assortment of your store and add your favorite items to your basket or favorites. Suppose he does not buy the chosen product at once, but he will return to your application on a regular basis to check if the chosen item is available, and it is not improbable that in one of such times he will look to himself for something else.
MOBILE APPLICATION IS STRATEGICALLY TRUE
Buyers are ordinary people who have a lot of things to do and worry that will overtake all thoughts about your store overnight as soon as they make the right purchase and go out for his doors. But the mobile application will always be in their mind. It is unlikely that users will delete your application immediately after making a purchase. Therefore, even if they do not use it frequently, you can see their icons by clicking through the applications on your phone. According to statistics from ten installed applications, users delete only every third, that is, you have all the chances for a long time to gain a foothold in their smartphones. And this sooner or later will force them to think about looking into your online store and see if something new and interesting has appeared.
MOBILE APPLICATION IS LOYAL
Today there are a lot of different ways to unobtrusively induce the buyer to re-purchase in your store: accumulated bonus points, holiday discounts, pranks, gifts and so on. However, it is difficult to tell the buyer about all these programs while he is standing in the store and choosing a new outfit: at the very least he will not listen, as a maximum, the exasperated will leave the store. A mobile application will help you in a timely and timely manner to deliver the right information to customers through so-called push notifications. These alerts, periodically pop-up on the phone screen, will inform users of all new bonus programs, without giving them any inconvenience.
MOBILE APPLICATION - IT IS INFORMATIVE
With the help of mobile application you can collect a better and fuller picture of your customers. How?
Firstly, you will be able to find out from which countries the traffic is going, at what time the buyers are most active, and based on this data, build a clear and successful advertising campaign.

Secondly, you will be able to track which categories of goods, and the goods themselves are in great demand among users, and, accordingly, replenish the assortment of your store with in-demand products.

Thirdly, you can analyze the baskets of potential buyers, see what they have added to their favorites, and make them a favorable discount offer.
This approach will positively affect the sales in your store, as you will always know what your customers want.